Piyoko is an evil 8 year old girl who is the princess of Planet Analogue. Her full name is Pyocola Analogue III. She is the Princess of Planet Analogue. She chases down Dejiko to ransom her off, so that her planet will no longer be dirt poor.
Her parent's are unseen, and young Piyoko is in the care of Rick, Coo, and Pik.
History
[
]
She can shoot a lazer from her mouth called the Upchuck Bazzooka. It is more powerful than the Me Kara Beam. She is obsessed with pandas.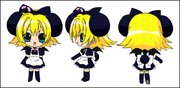 Animeography
[
]
Galería
[
]